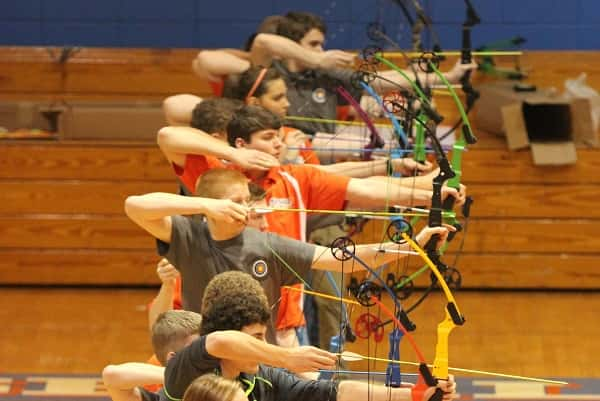 DRAFFENVILLE – In their third season at Marshall County High School, the Archery team has competed in five competitions and have posted one 1st place finish, two 2nd's and two 3rd's with their highest team score of 3293 coming in their most recent competition on January 13-14 at Trigg County's Arrowcat Classic where they placed 3rd out of 7 teams.
The individual high score of the season so far has come from Daniel Bryant with 296 points and 26 tens in their first competition of the season on December 3rd at Trigg County.
Marshall County will host the NASP Region 1 Tournament this Friday and Saturday with flights from 5:30 to 7:30 Friday and beginning at 8:00 am with the first flight Saturday, finishing up with the final flight at 4:30.
Marshall County results below from the first five competitions of the season.
Arrowcat Winter Warm-Up, 12-3-16
1st Trigg County, 2nd Marshall County, 3rd Murray, 4th Graves County
| | | | |
| --- | --- | --- | --- |
| Rank | Archer | Score | Tens |
| 1/63 | Daniel Bryant | 296 | 26 |
| 10/63 | Tyler Elfrank | 282 | 17 |
| 13/63 | Chris Shoulders | 278 | 17 |
| 14/63 | Cody Hicks | 278 | 15 |
| 16/63 | Tanner Hobbs | 277 | 11 |
| 21/63 | Dalton Andersson | 275 | 10 |
| 11/62 | Nicole Tosh | 274 | 13 |
| 30/63 | Chris Wallace | 268 | 12 |
| 19/62 | Kendra Cannon | 267 | 9 |
| 23/62 | Kalee Gray | 266 | 8 |
| 36/63 | Bailey Whiteman | 265 | 10 |
| 24/62 | Alisha Boone | 264 | 10 |
| 26/62 | Brooklynn Givens | 263 | 9 |
| 38/62 | Callie Bridges | 244 | 5 |
| 47/62 | Hayden Eubanks | 235 | 1 |
| 60/63 | Mairkqus Thompson | 207 | 1 |
South Todd Winter Warm-Up, 12-9/10-16
1st Marshall County, 2nd Butler County, 3rd Hopkinsville
| | | | |
| --- | --- | --- | --- |
| Rank  | Archer  | Score  | Tens  |
| 1/33 | Alisha Boone | 286 | 19 |
| 1/36 | Daniel Bryant | 286 | 17 |
| 3/36 | Bailey Whiteman | 277 | 12 |
| 5/33 | Brooklynn Givens | 275 | 11 |
| 4/36 | Dalton Andersson | 274 | 10 |
| 6/36 | Tanner Hobbs | 271 | 7 |
| 7/36 | Cody Hicks | 269 | 11 |
| 8/36 | Chris Shoulders | 269 | 11 |
| 10/36 | Chris Wallace | 266 | 13 |
| 14/36 | Tyler Elfrank | 262 | 6 |
| 10/33 | Kendra Cannon | 258 | 9 |
| 13/33 | Grace Boatright | 255 | 5 |
| 21/26 | Tyler Hill | 250 | 4 |
| 16/33 | Kalee Gray | 246 | 5 |
| 20/33 | Callie Bridges | 237 | 3 |
| 23/33 | Mikayla McKough | 226 | 5 |
| 28/33 | Olivia Miller | 212 | 0 |
| 30/33 | Cassidy Thorn | 203 | 2 |
| 31/33 | Heather McKough | 196 | 1 |
2nd Annual Premier Building Archery Competition, 12-17-16
1st Trigg County, 2nd Marshall County, 3rd Murray, 4th Graves County, 5th Calloway County
| | | | |
| --- | --- | --- | --- |
| Rank | Archer | Score | Tens |
| 8/55 | Bailey Whiteman | 281 | 15 |
| 3/54 | Brooklynn Givens | 281 | 14 |
| 14/55 | Tanner Hobbs | 278 | 13 |
| 15/55 | Cody Hicks | 277 | 13 |
| 21/55 | Chris Shoulders | 274 | 10 |
| 13/54 | Nicole Tosh | 272 | 11 |
| 23/55 | Daniel Bryant | 271 | 19 |
| 26/55 | Dalton Andersson | 270 | 8 |
| 16/54 | Hayden Eubanks | 268 | 11 |
| 30/55 | Chris Wallace | 267 | 12 |
| 17/54 | Kalee Gray | 267 | 7 |
| 19/54 | Grace Boatright | 264 | 11 |
| 21/54 | Kendra Cannon | 263 | 12 |
| 43/55 | Tyler Elfrank | 252 | 4 |
| 28/54 | Alisha Boone | 250 | 7 |
| 29/54 | Callie Bridges | 248 | 2 |
| 39/54 | Cassidy Thorn | 237 | 8 |
| 40/54 | Mikayla McKough | 235 | 7 |
| 49/55 | Tyler Hill | 235 | 2 |
Murray's New Year Extravaganza, 1-7-17
1st Trigg County, 2nd Hopkins County Central, 3rd Marshall County, 4th Murray, 5th Graves County, 6th Calloway County, 7th Community Christian Academy
| | | | |
| --- | --- | --- | --- |
| Rank  | Archer  | Score  | Tens  |
| 6/75 | Daniel Bryant | 286 | 18 |
| 16/75 | Tanner Hobbs | 281 | 14 |
| 8/71 | Kendra Cannon | 276 | 11 |
| 24/75 | Dalton Andersson | 275 | 14 |
| 25/75 | Bailey Whiteman | 274 | 9 |
| 12/71 | Hayden Eubanks | 272 | 12 |
| 29/75 | Chris Shoulders | 272 | 7 |
| 15/71 | Nicole Tosh | 271 | 8 |
| 17/71 | Brooklynn Givens | 270 | 12 |
| 18/71 | Kalee Gray | 270 | 11 |
| 39/75 | Chris Wallace | 266 | 8 |
| 41/75 | Cody Hicks | 266 | 7 |
| 41/71 | Kelsey Littrell | 255 | 7 |
| 47/71 | Callie Bridges | 251 | 5 |
| 65/75 | Tyler Elfrank | 246 | 5 |
| 50/71 | Alisha Boone | 246 | 3 |
| 52/71 | Cassidy Thorn | 241 | 5 |
| 67/75 | Tyler Hill | 240 | 4 |
| 57/71 | Olivia Miller | 237 | 4 |
| 62/71 | Grace Boatright | 230 | 2 |
| 65/71 | Mikayla McKough | 228 | 2 |
| 70/71 | Heather McKough | 215 | 3 |
Arrowcat Classic, 1-13/14-17
1st Trigg County, 2nd Webster County, 3rd Marshall County, 4th Murray, 5th Graves County, 6th Hopkinsville, 7th Community Christian Academy
| | | | |
| --- | --- | --- | --- |
| Rank  | Archer  | Score  | Tens  |
| 5/62 | Bailey Whiteman | 288 | 20 |
| 7/62 | Daniel Bryant | 287 | 19 |
| 10/62 | Chris Shoulders | 284 | 20 |
| 7/59 | Brooklynn Givens | 281 | 18 |
| 20/62 | Chris Wallace | 276 | 14 |
| 14/59 | Hayden Eubanks | 274 | 16 |
| 24/62 | Tanner Hobbs | 272 | 16 |
| 19/59 | Kendra Cannon | 269 | 13 |
| 20/59 | Callie Bridges | 268 | 9 |
| 22/59 | Nicole Tosh | 267 | 8 |
| 23/59 | Kelsey Littrell | 266 | 10 |
| 42/62 | Dalton Andersson | 261 | 8 |
| 30/59 | Kalee Gray | 259 | 8 |
| 50/62 | Tyler Elfrank | 256 | 9 |
| 35/59 | Alisha Boone | 255 | 8 |
| 36/59 | Grace Boatright | 255 | 6 |
| 52/62 | Tyler Hill | 255 | 5 |
| 53/62 | Cody Hicks | 253 | 6 |
| 40/59 | Mikayla McKough | 249 | 2 |
| 44/59 | Olivia Miller | 244 | 6 |
| 57/59 | Cassidy Thorn | 206 | 7 |