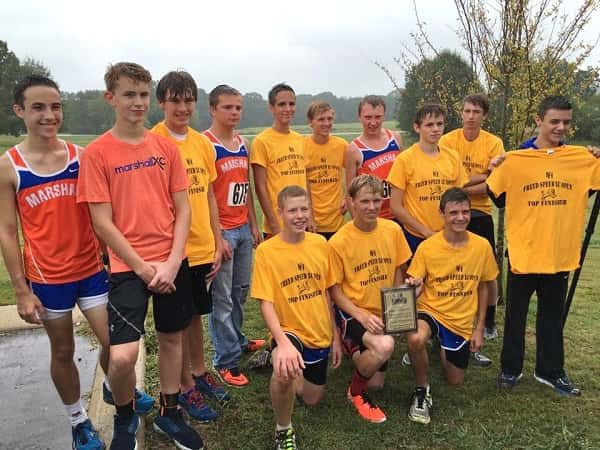 HENDERSON, Tn. – Jackson Yates and Jordyn Ray took 1st in the Freed Speed Open at Freed-Hardeman University to lead the boy's and girl's team to 1st place finishes in Henderson, Tennessee on Saturday.
Seven Marshals placed in the top 10 starting with Yates 1st place in 17:32, Garrett Fulgham placed 4th (18:20), Mason Cosner 5th (18:34), Matt Ray 6th (18:54), Cole Wyatt 8th (19:01), Jackson Reed 9th (19:26) and Christian Cosner 10th (19:26).  More finishes from the Marshals came from Joseph Reed 12th (19:37), Ethan Dowell 13th (19:38), Knox Sandlin 14th (19:46), Kyle McClain 16th (20:00), Alex Colburn 22nd (21:03), Justin Wilson 30th (22:51) and Garrett Womack 33rd (23:25).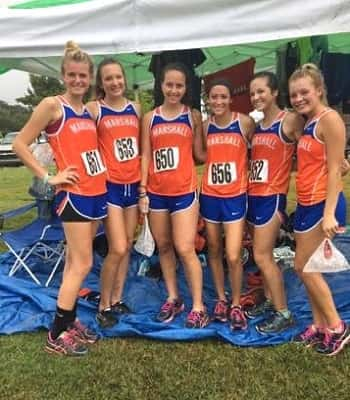 The Lady Marshals placed seven in the top 10 led by Ray crossing first in 22:59, Bailey Sandlin 4th (24:20), Sarah Knoth 5th (25:08), Haley Ford 6th (26:15), Chloe Kerrick 8th (28:28), Breonna Logothetis 9th (29:25) and Sydney Reed 10th (29:42).
On September 10th, the team competed in a 17 team meet at Calloway County. Yates had the best finish for the boys crossing the line in 6th in a time of 18:05 while Mason Cosner (18:05) and Matt Ray (18:48) rounded out the top three Marshall finishes in 11th and 13th. Henry County's Titus Winders (17:08) and Silas Winders (17:23) took 1st and 2nd.
Ray led the girls at Calloway County with a 6th place finish, stopping the clock at 23:00, Sarah Knoth was 29th (24:21) and Bailey Sandlin 35th (25:09) for the top three Lady Marshal finishers. Graves County's Carley Dowdy too 1st in 22:16.
The cross country team will host a meet this Saturday at Marshall County High School.