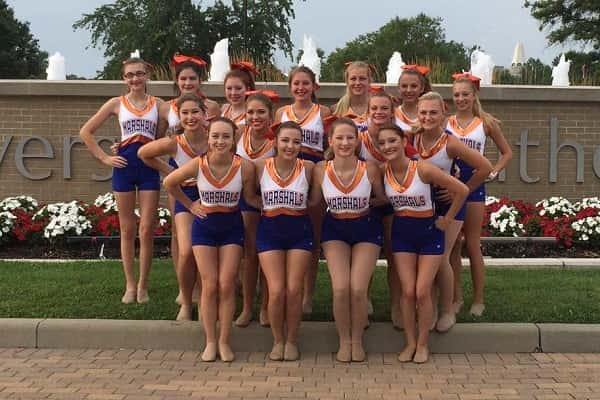 The Marshall County High School Dance Team came home this week with several awards from UDA dance camp held at the University of Southern Indiana.
Senior Abby Heath and 8th grader Garlynn Gillespie received All American medals for their superior showmanship, technical skills and execution.
Junior Cameron King came in 3rd place for drill downs which are military style commands that help with focus and concentration. She also received one of only four "Pin it Forward" pins from the head instructor for her positive attitude and hard work. Once she received this pin, she had to "pin it forward" and give a pin to another camper that she thought stood out for those same reasons. Sophomore Halie Riley received one of these pins from a camper from another team.
At the Olympic themed night with different theme events MCHS earned the silver award.
The dance team received two awards that were voted on by other campers, the Super Spirit Award for always being positive, having fun and interacting with other teams and the Leadership Award which is voted on by all participants.
Campers had to pick one team they would want to be a part of if they weren't on their own, and MCHS won.
The team came home with four new routines and individual ribbons for their final evaluations in each  of these and received a bid to Nationals.
If you would like to help support the MCHS Dance Team, they will be holding a car wash on Saturday, July 16th from 10:30-2:00 at Ponderosa in Draffenville. Donations will be accepted.
Team coaches are Marcy Sutton and Kim Phelps.