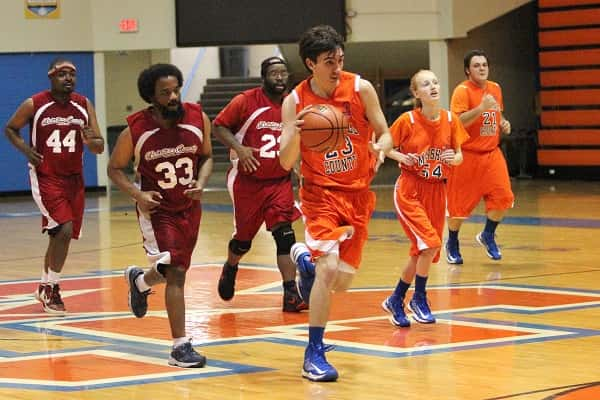 DRAFFENVILLE – Marshall County Special Olympics hosted the 4th Annual Holiday Classic last Saturday, playing games in the main gym and auxiliary gym throughout the event.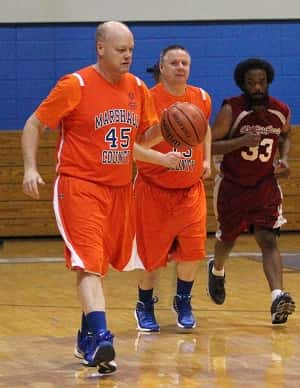 The Marshall 1 team plays in the Special Olympics B Blue Division and is the state's defending State Champion of that division.
Marshall 1 played a tough first game against the eventual B Bracket Champion, West Ky Stars, from McCracken County falling 26-2.
Marshall's only basket was made by Edward Burkeen. West Ky was led by Reece Pace who had 8.
Marshall 1's second game was in the consolation bracket against the Murray Rocket's green team in a much closer game. With only seconds to go, Marshall stole an inbounds pass and took a last second shot that missed falling 14-12 to the Rockets. Marshall's Edward Burkeen and Chase Henderson led with 4 points each, Mason Woodcock had 2, Autumn Vance and Alex Wiley each had 1 point.
Marshall 2 played the Cornerstone Panthers from Illinois in their first game falling 39-19 in a very fast paced game. Marshall was led by Dave Chumbler and George Navarre who had 5  points each, Evan Miller added 4, Travis Hicks 3 and Johnathan Russell 2. The Panthers were led by Nick Hutchin's 10 points.
In their second game in the consolation bracket Marshall played a tough Christian County team falling 29-12. The Marshals had a balanced scoring  game with Dave Chumbler and Christian Andresen with 3 each, Cheyenne Byrd, George Navarre, and Evan Miller each had 2. Christian was led by John Ivey with 12.
Marshall 2 plays in the States 1A Blue Division and was the State Runner-Up. Christian County was the States 1A Red Division State Runner-up last season.
Tournament results –
1A Division Champion – Murray Rockets Blue
Runner-up – JC Hi-Flyers- Mt Vernon, Ill.
Third – Christian County
B Division Champion – Wky Stars-McCracken County
Runner-Up – Christian County
Third – Murray Rockets White