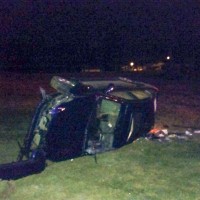 The McCracken County Sheriff's Department responded to reports of an injury accident on Thursday night in the 800 block of Calvert Road in Reidland.
According to deputies, 32-year-old Jennifer Windspirit of Auburn, New York was traveling North around 11 p.m. on US 68 in a 2010 Subaru Legacy.
Their investigation reviled that Windspirit's vehicle dropped off the roadway for unknown reasons causing her to go airborne over Calvert Road. Deputies say the vehicle came to rest on its left side in the yard of a resident at 820 Calvert Road.
Mercy Regional Ambulance transported Windspirit to Lourdes Hospital for non-life threatening injuries.
The Reidland-Farley Fire Department and Mercy Regional EMS assisted the McCracken County Sheriff's Department at the scene of the accident.