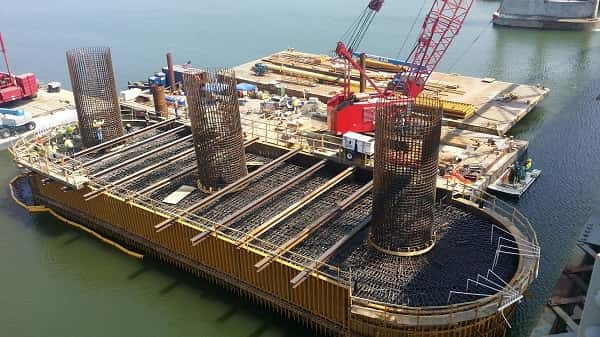 AURORA – A 36-hour concrete pour will force a lane restriction  on the Eggners Ferry Bridge on U.S. 68
The pour is related to construction of the replacement bridge across Kentucky Lake. Kentucky Transportation Cabinet Public Information Officer Keith Todd said the pour began at 4 a.m. and will continue non-stop until 4 p.m. tomorrow.
The contractor is placing concrete for the footer at pier five on the new bridge.  This concrete pour requires one lane traffic on the existing bridge to allow deliveries of concrete to the construction site. Todd called the activity "one of the largest concrete pours on the project."
There are two main piers that will ultimately hold the basket-handle arch for the main span of the new structure.  Those are at pier four and five. It will take around 1,900 cubic yards of concrete to complete the pier five footer.   The best estimate is that sometime around the middle of next week there will a similar marathon pour on the footer for pier 4
While the lane restriction is in place for this pour, the contractor is repairing potholes and doing other deck maintenance on the existing bridge.
Motorists should use appropriate caution where equipment, flaggers and maintenance personnel are along the roadway in close proximity to traffic flow.  Some delays are possible in the work zone during the movement and placement of equipment.