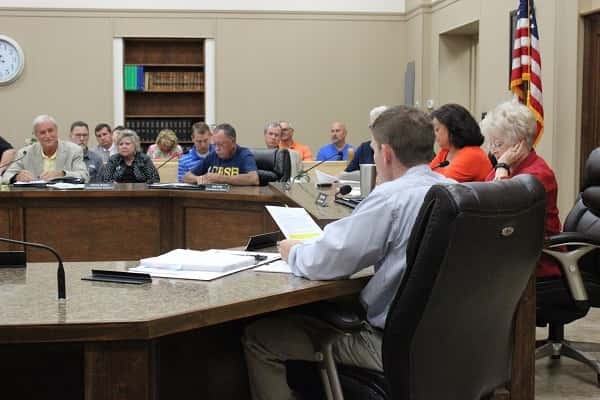 BENTON – [VIDEO FOLLOWS REPORT] Marshall County Fiscal Court held a second workshop on the ABC (Alcoholic Beverage Control) Ordinance, and unlike the first workshop held on August 13th, the courtroom was standing room only Monday morning.
Assistant County Attorney Jason Darnall, went over the Ordinance citing the changes that were made since the last workshop meeting.
A $300 Special Sunday retail drink license per annum was added as a result of last week's workshop decision to allow Sunday sales. A provision was added in the Dormancy section of the Ordinance for those whose business operations are "seasonal".
During the first workshop, the Fiscal Court made the decision that the 1,000 feet barrier from schools, churches and daycare centers may not be feasible in some cases adding "a certain degree of discretion" may be necessary in determining a site for a quota retail package store and set the distance at 500 feet.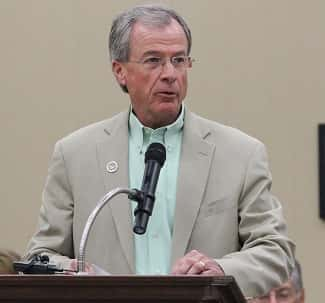 In the area of patio and outdoor sales, changes were made to reflect several conditions that must be met before a restaurant can obtain a license for outdoor sales.
Judge Executive Chyrill Miller read a letter she received concerning the footage from schools, churches and daycare centers and the court then proceeded to hear from 18 concerned citizens who each took the podium to express their views, which in the majority of cases, were about Sunday sales and the distance from schools, churches and daycare centers.
Keith Travis presented court members with a letter from which he read: "I feel my comments represent a large portion of this county."
"The proposed amendments have direct student safety impact and financial impact on our district", Travis said concerning the 500 foot distance from county schools. "This speaks to a safety issue regarding children leaving school activities especially at night."
"I would ask that the Fiscal Court not adopt the proposed amendments due to the concerns noted until convening bodies of our churches have been able to discuss the same."
Travis would like to see the distance set at 2,000 feet which he feels is more realistic and would like to not see Sunday sales approved.
"Sunday sales should not be permitted", Travis said. "It is hard to contemplate that in the interest of 11 hours of alcohols sales on Sunday outweighs the historical and religious significance of a day of rest and worship in our county."
Travis feels the document is liberal and feels the court should proceed with caution and err on the side of conservatism.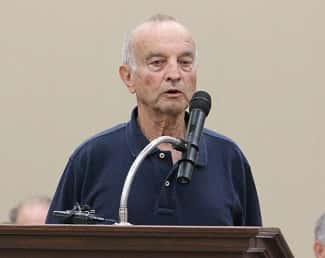 Travis' comments stirred those in the crowd that share his views to become vocal in their support which carried over into comments made by Dr. H.W. Ford who said, "I don't think there's ever been a more historic meeting in Marshall County than this one today."
"All my life, I've heard that Marshall County is asleep. I've heard that Marshall County is a sleeping giant. But we've done nothing about it. Last month we had an election to do something about it. The people have said lift prohibition. I think the duty of this court is not to stop it, or slow it, or restrict it."
Several others expressed similar sentiments concerning opposition to Sunday sales and the distance issues with respect to their religious beliefs and personal views.
Marilyn Williams, a supporter of the 'Yes' vote said, "I am proud, as I stand here before you today, that we did not succumb to emotion or to religion or to back biting, but what we did was try to do an economic favor for this county."
"I am a christian, I'm a Presbyterian by birth and from the time I was a very young child, I could have a cup of wine to celebrate the Lord's Supper. Does that mean I can't make it into heaven? Does that mean that in this county is a moratorium on certain religious groups? I hope not."
Kathy Wood of Moors Resort and Marina, spoke to the economic development impact. Wood said, "Our tourism struggles in this county and unless you are there and working it you don't understand how difficult a struggle it is to be competitive with people who have a few more tools in place to use."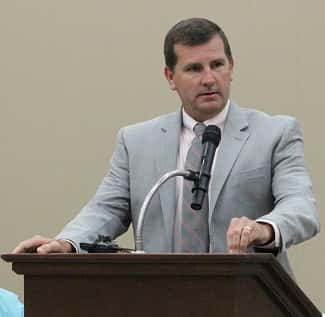 Marshall County Schools Superintendent Trent Lovett questioned the 500 feet distance from the school whether it was from the structure or the property. Currently it reads a straight line from the closest walls and Lovett feels that it could affect the school from Hwy. 68 and does not want to see a liquor store at the end of High School Road as the kids are leaving school each day.
"Five hundred feet is awfully close and I would just like for you to consider that when passing this resolution", Lovett said.
Judge Miller reminded everyone that the cities of Benton and Calvert City will have their own ordinances.
The court must meet an October 4th deadline to pass the Ordinance and will meet again on September 10th at 9:30 am and hope to finalize it.
In thanking those in attendance, Commissioner Dr. Rick Cocke said, "I don't think there's one of us in this room today that don't have friends on either side of the issue, there's not one of us here that don't have neighbors on either side of the issue and there's not one of us that goes to church with people on either side of the issue, so that's my prayer that after this document is complete that Marshall County can heal and be one."
Click this link to read the 26 page Ordinance: Marshall County ABC Ordinance