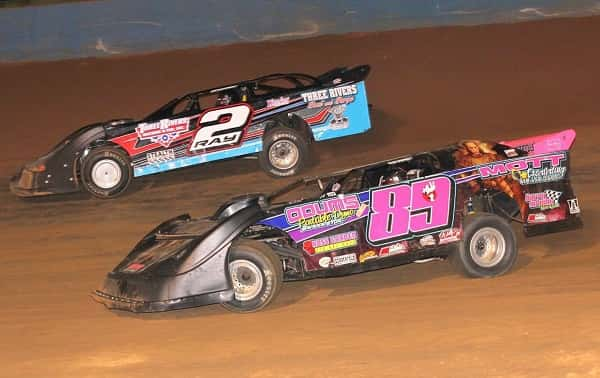 CALVERT CITY – Kyle Stickler of Moorsville, North Carolina, bested the 23-car Open Wheel Modified field at Kentucky Lake Motor Speedway on Saturday Night. Strickler started the feature event in the 13th  starting spot and had worked his way up to 11th when the first yellow flag flew on lap seven.
By lap 16 Strickler had piloted the 27T machine to 7th. A caution with 22 laps completed created a 3 lap shootout for the $3,000 to-win event. Strickler lined up behind leader, Bryce Jewell, for the final restart. Strickler was able to get around Jewell on lap 24 and held him off to take the checkered flag by a 0.560 second margin. Michael Lee, Jeff Elliot and Randle Sweeney rounded out the top five.
Jarryd Holshouser of Boaz, Kentucky took home the victory in the Super Late Model division. Dylan Thompson initially took the checkered flag but an incident on the backstretch after the race disqualified Thompson, giving Holshouser the victory. Tim Brown, Levi Kissinger, Brad Mitchell and Lee Williams finished 3rd through 5th, respectively.
The Pro Crate Late Model division saw Credence Mott of Vienna, Illinois storm his way to his first victory of the season at KLMS. Mott beat Kevin Poole to the finish by 6.225 seconds. Matthew Filkins, Josh Cherry and Austin Flint rounded out the top five of the feature.
Owensboro, Kentucky's Chad Boone bested the field in the Stock Car division. Boone started the race in the 4th position and wasted no time getting around the field and leading the first lap. Mike Lentz, Trent Young, Tyler Stevenson and Brent Burnett rounded out the field.
Mike Neighbors won the Pure Stock division for the eighth consecutive event. Neighbors is undefeated so far in competition at KLMS. Mike Watson, Chad Weiner and Matthew Rollins finished 2nd through 4th, respectively.
Racing will continue at KLMS on Saturday, August 8th with a regular program. After a string of special events for the last eight events, all classes will compete for regular pay. More information can be found at kylakespeedway.com.
Results – Race No. 10, August 1, 2015
CRATE – 1. Credence Mott, Vienna, Ill.; 2. Kevin Poole, Paducah, Ky.; 3. Matthew Filkins, West Frankfort, Ill.; 4. Josh Cherry, Cuba, Ky.; 5. Austin Flint, Mayfield, Ky.; 6. Adam Ray, Smithland, Ky.; Ricky Waggoner, Martin, Tenn.
Heat eace winner: Adam Ray
Fast Qualifier: Credence Mott, 16.733 
LATE MODEL – 1. Jarryd Holshouser, Boaz, Ky.; 2. Tim Brown, Benton, Ky.; 3. Levi Kissinger, Mt. Vernon Ind.; 4. Brad Mitchell, Madisonville, Ky.; 5. Lee Williams, Haubstadt, Ind.; 6. Dylan Thompson, Paducah, Ky.
Fast Qualifier: Dylan Thompson, 15.189
MODIFIED – 1. Kyle Strickler, Moorsville, N.C.; 2. Bryce Jewell, Madisonville, Ky.; 3. Michael Lee, Paris, Tenn.; 4. Jeff Elliott, Mayfield, Ky.; 5. Randle Sweeney, Clifty, Ky.; 6. Daniel Wadley, Herndon, Ky.; 7. Jay Isom, Hopkinsville, Ky.; 8. Tait Davenport, Benton, Ky.; 9. Preston Seratt, Dyersburg, Tenn.; 10. Will Krup, Mt. Carmel, Ill.; 11. Trent Young, Hopkinsville, Ky.; 12. Matt Mevert, Steeleville, Ill.; 13. Mike Powers, Burlison, Tenn.; 14. Lucas Lee, Paris, Tenn.; 15. Josh Harris, Utica, Ky.; 16. Tyler Nicely, Owensboro, Ky.; 17. Rod Reed, Mayfield, Ky.; 18. Lincoln Epps, Dover, Tenn.; 19. Chase Copeland, Paducah, Ky.; 20. Matt Cooper, McKenzie, Tenn.; 21. Victor Lee, Paris, Tenn.; 22. Brian Shaw, Robinson, Ill.; 23. John Clippinger Evansville, Ind.
Heat race winners: Tait Davenport, Bryce Jewell, Matt Cooper, Josh Harris
Fast Qualifier: Trent Young, 15.859
STOCK CAR –  1. Chad Boone, Owensboro, Ky.; 2. Mike Lentz, Herrin, Ill.; 3. Trent Young, Hopkinsville, Ky.; 4. Tyler Stevenson, Benton, Ky.; 5. Brent Burnett, Lowes, Ky.
Heat race winner: Mike Lentz
PURE STOCK – 1. Mike Neighbors, Cerulean, Ky.; 2. Mike Watson, West Paducah, Ky.; 3. Chad Weiner, Francisco, Ind.; 4. Matthew Rollins, Princeton, Ky.;
Heat race winner: Mike Watson