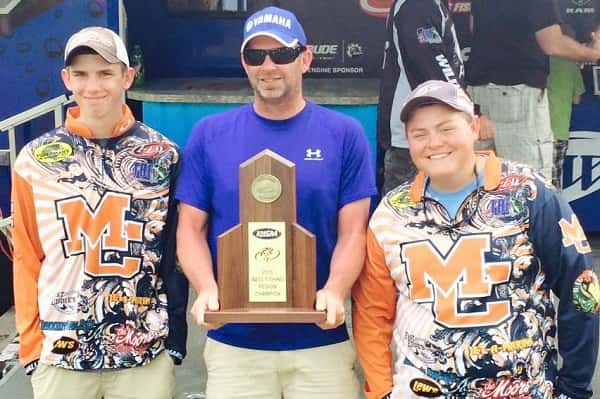 KUTTAWA – Colton Story and Peyton Porter weighed in five fish at 16 lbs. 7 ozs. on Saturday to win the KHSAA Region 1 Bass Fishing Tournament. The tournament was held on Lake Barkley out of the Kuttawa Harbor Marina.
"These two young men take the sport very seriously", Coach Luke Anderson said, "Our first goal is always just to make the state qualification cut, but for them to have won the Region 1 tournament that included over 70 boats is just awesome. Of course, none of this would have been possible without Colton's father, Jeff Story, who volunteers a tremendous amount of time, as do all of our captains."

Second and third place went to teams from Muhlenberg County. Taylor Harris and Drew Mendoza weighed in five fish at 15-13 to capture second followed by Peyton Lipe and Brandon Payne with five fish at 13-4.
Marshall County landed four teams in the top 20 out of 45 teams participating. Barrett Washburn and Austin Wade took 14th with three fishing weighing in at 7-7, Bailey Napier and James Gibbs finished 15th with three fish weighing 6-11 and Colin Howell and Gavin Grant with three fish weighing 6-8.
The final Marshall team of Sydney Ladd and Skyler Brinkley finished 44th with one fishing weighing 1-14.
Story and Porter and Washburn and Wade both qualified for the state tournament.