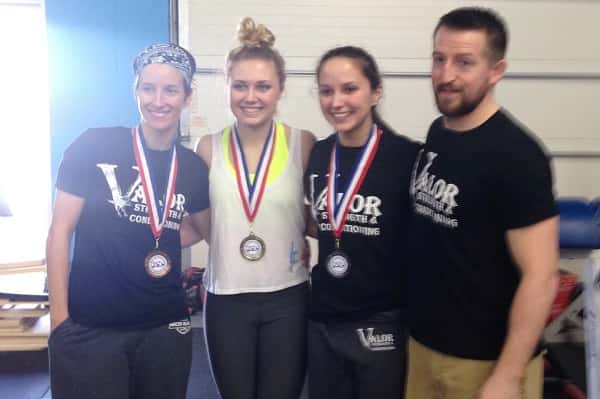 LOUISVILLE – The USA Weightlifting Kentucky State Championship was held on Saturday,  March 21st in Louisville. Marshall County was well represented on the Junior and Female Open class podiums by Junior lifters Karson Johnson and Katie Darnall,  Cassie Flemming in the Female Open division and Clint Hudson in Male Open.
Karson Johnson took the top spot on the podium with her max lift on Snatch of 48 kilograms (105 lbs) and max lift on Clean and Jerk was 68 kilograms (150 lbs) for a total of 116 kilograms (255 lbs).
She placed first in her class (63 kg) and Katie Darnall placed 2nd in this same class. Cassie Fleming placed third in the Female Open class.
Also competing in the State Championship was Clint Hudson who placed 3rd in the Men 94 kg class and Brad Scillion.
This was the first time in 40 years that Kentucky has held a state weightlifting meet.
Johnson also recently placed first in the state 16-17 age Open Cross-fit competition going on to take 11th in the Regional competition which consists of Kentucky, Ohio, Illinois and Indiana.
They train five days a week and are coached by Josh Hendrickson of Valor Strength and Conditioning in Benton.