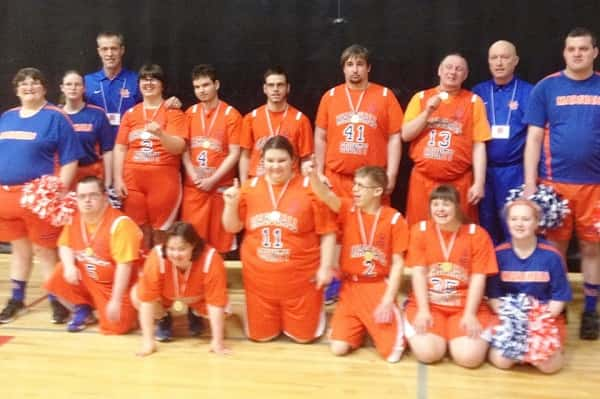 LOUISVILLE – The Marshall 1 team beat the Churchill Park Wildcats 17-14 in the semi-final game of the B1 Division going on to capture the State Championship by beating the Bowling Green Deputies 16-8 this past weekend in Louisville at the Hoops facility. This was Marshall 1's first state title.
Members of the Marshall County 1 team are Jennifer Irvan, Kali Fountain, Jacob Cox, Edward Burkeen, Marie Reynolds, Chris Capone, Ellen Lampley, Chase Henderson, Leon Zeitz and Trevin West.
For the second consecutive year, the Marshall 2 Special Olympic basketball team competed in the State Championship game. Sunday the Marshall 2 squad beat the Louisville Wildcards in the State Semi-finals winning 34-16 playing in a higher division this year and played the Oldham County Eagles for the 1A Blue Division State Title.
After a tough second half the Marshalls fell 39-27 earning State Runner-up and a Silver Medal.
There are approximately 75-80 Special Olympic basketball teams that compete throughout the state. Teams qualify for the State Tournament through their Regional Tournaments.
Last season in the B-Red Division, the Marshall 2 Marshalls completed an undefeated season with a 30-16 victory over the Owensboro Blasters in the Gold Medal game.
Members of the Marshall County 2 team are George Navarre, Nate Dolbee, Christian Andresen, Cheyenne Byrd, Tyler Vaughn, Heath Mann, Evan Miller and John Atkinson. The teams are coached by Jonny Byrd and assistant Matt Fountain.